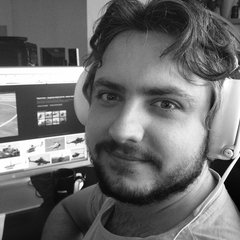 Vladislav Ociacia
3D concept artist, modeler, founder of Buyourobot
Kiev, Ukraine
Summary
35 years
Kiev, Ukraine
Designing characters, locations. Love futuristic, robotic, steam punk style.
Spending free time to create robotic characters for my little shop - www.buyourobot.com
Idealist by nature. Dream about professional growth and interesting projects.
Academic Qualifications:
School of Arts. Drawing class.
National University of Theatre, Film and TV in Kiev.
Specialty — animated cartoon film director.
You can be my Patreon here - https://www.patreon.com/ociacia
Skills
3D Modeling
Drawing
Concept Design
Character Design
Sketching
Software proficiency